HomEmo: Home dialysis machine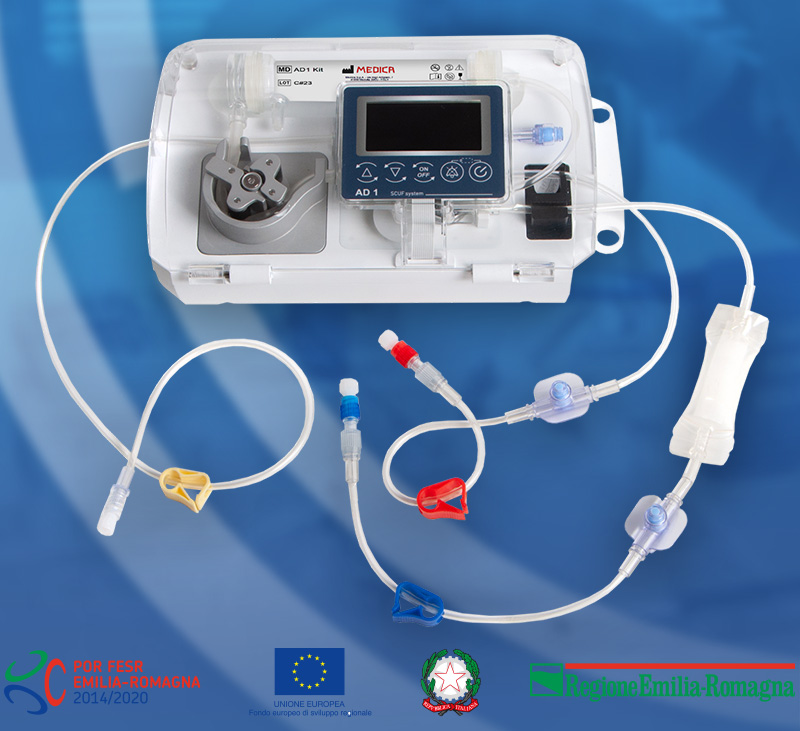 The HomEmo project was funded by the Regional Law 14/2014 Investment Promotion in Emilia-Romagna", funds POR FESR 2014 - 2020 POR FSE 2014 - 2020 - ACCORDI REGIONALI DI INSEDIAMENTO E SVILUPPO DELLE IMPRESE - BANDO 2019 IN ATTUAZIONE DELL'ART. 6 DELLA L.R. N. 14 /2014 E S.M.I. - DGR 268/2019.
The project, in collaboration with the regional laboratories MISTER and TPM, was divided into 4 main development lines:
development of single-use flow sensors to obtain a sensor cassette;
development of spectrometric based optical sensors for measurements of blood parameters;
development of machine learning algorithms for the analysis of clinical data;
development of a portable blood filtration device.
The aim is to develop the technology to bring blood filtration methodologies into the home environment, or in non-specialized hospital wards, in order to encourage their use outside of intensive therapies and dialysis departments. In addition, we need systems based on disposable sensors, which work with very small volumes of blood and low flows, so as to have portable systems, simple and intrinsically safer.
The project resulted in a portable hemofiltration device (AD1), including a disposable kit that includes a flow sensor for weight loss measurement; optical sensors for blood loss, hematocrit and saturation measurement, pH, whose data are analyzed by machine-learning techniques; and an infrastructure for collecting and centralizing data from different devices.
"HomEmo: Home dialysis machine" - Bando Legge 14/2014 - DGR 268/2019
Gallery